Step 1: Take Accurate Measurements
Start with the first wall on the left and work to your right around the room.  Measure the overall length of each wall. Click here to print a grid for plotting your drawing.
Indicate breaks in the walls (windows, doors, closets) by measuring to the outside edge of the molding.  Include permanent appliances, air vents, electrical, plumbing, etc.
Important: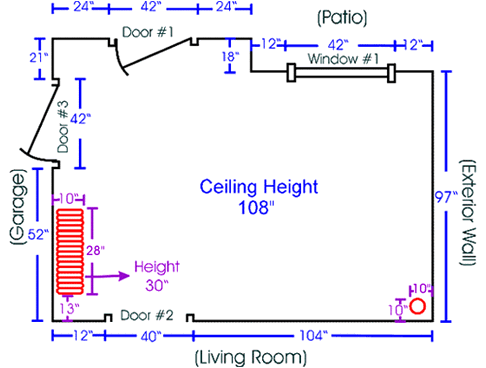 Be sure to mark the exact location of sink, drains, gas hook up, light fixtures, electrical outlets and switches.
Note the distance from the floor for electrical outlets, electrical switches and wall mounted light fixtures.
Mark the dimensions of all ducts, vents or radiators.
Indicate the direction of the door swing.
---
 Step 2: Plan Your Kitchen Cabinet Layout
Start laying out your cabinets, using the list of available cabinets found here. Start in the 0", 0" corner on your grid paper and work outward.  You may be able to move major appliances several inches to accommodate a layout change.
Begin your cabinet layout using a standard depth of 24" for base cabinets and 12" for wall cabinets.  (Other cabinet depths may apply in special situations).
For your new layout to be safe and comfortable, it is critical to allow adequate clearances:
28" - 34" minimum doorway width
42" in front of appliance doors (refrigerator, oven, dishwasher) - Be sure cabinet doors do not conflict with appliance doors
42" between cabinets and island
36" behind seating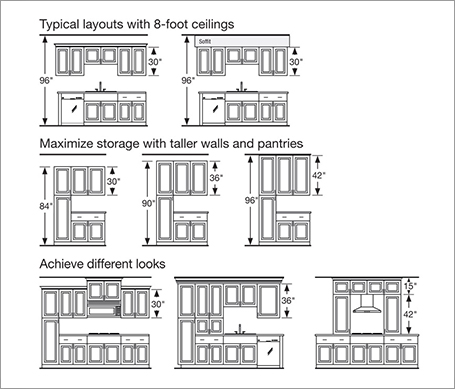 When designing your wall cabinet layout, think about using different height cabinets to achieve a creative visual appearance.
Important:
Make sure all the cabinet doors and drawers open without interference.
Keep work areas out of main traffic pattern.
Locate the sink and other major appliances close to the original location, when possible.
Experiment with alternate configurations of the corner cabinets.
Consider annexing space from adjacent rooms.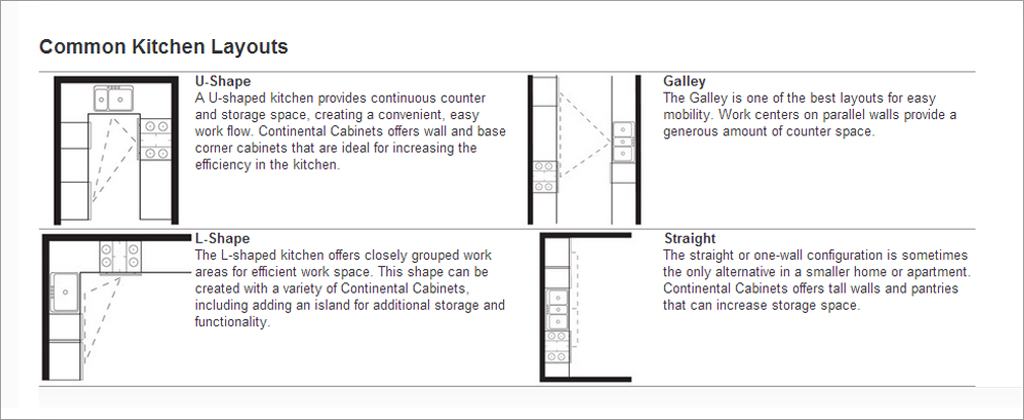 ---
Step 3: Select Your Door Style
Continental Cabinets is proud to offer a great selection of door styles and finishes.  Choose your favorite when you are at your local authorized dealer.